Viola Anton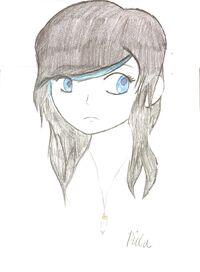 Viola's concept design
Characteristics

Age

16 years old

Sex

Female

Height

162 cm / 5'4"

Weight

54.4 kg / 120 lbs
Affiliation

School
Occupation

High school student

Grade

10th grade
Profile

Status

Deceased

Family
Viola Anton is an original character created by Aion Rankin. She is a 10th grade student in Gossamer High School and the protagonist of Chapter 2 in Corpse Party: Foreigner.
Design
Viola is a 16 year old girl with long, black hair with a blue underlayer. Usually, her hair is kept down or in a ponytail that leaves her bangs and a thin strand of hair over her ear, which she refuses to wear at school because she wears a pink hearing aid on the left side. She has blue eyes and is above average height. She does not wear a uniform, and is usually seen wearing ripped jeans, black skate shoes, and a graphic black t-shirt. She is usually seen with a blue hobo-style bag.
Personality
Viola is very headstrong and defiant, as she is described by her friends. She is extremely intelligent and street-smart, although she does not show it where it's needed, such as in school, and just scrapes by with C's and D's. Viola is very lazy, which becomes very apparent in the school, as she doesn't attempt to find a way out and is seen sitting down.
Trivia
Viola mentions she has a black cat, named Tokimo, which is a reference to the demon (more known as the black cat) from The Witch's House.

Ironically, the demon from The Witch's House was never called Tokimo in both the game and the novella.
Ad blocker interference detected!
Wikia is a free-to-use site that makes money from advertising. We have a modified experience for viewers using ad blockers

Wikia is not accessible if you've made further modifications. Remove the custom ad blocker rule(s) and the page will load as expected.