"
Look, I understand that this is a very big deal to you, but we have other, more current and pressing matters that we need to attend to.
"

—Ichika Kamijou, Corpse Party: For Another Day
Ichika Kamijou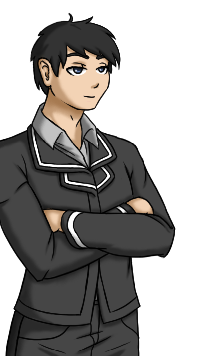 Characteristics

Age

19 years old

Sex

Male

Birth Date

May 2nd
Affiliation

School
Occupation

High school student

Class

III-4
Ichika Kamijou is an original character created by AtlasAtrium, that appeared in Corpse Party: For Another Day. He is a student of Karasuyama High School and a victim trapped inside Heavenly Host Elementary School.
Design
Ichika has short black hair and blue eyes. He wears a Karasuyama High School uniform.
Personality
One might call Ichika the respected confidant of the group, as giving advice and making difficult decisions is his specialty - he does not break under pressure, is steady in his beliefs, and has incredible will-power to back it up. Calm, down-to-earth, and with great leadership qualities, he can be seen as intimidating at times, especially considering his somewhat bulky stature and calculating gaze.
Appearances
---
Gallery
Corpse Party: For Another Day
Ad blocker interference detected!
Wikia is a free-to-use site that makes money from advertising. We have a modified experience for viewers using ad blockers

Wikia is not accessible if you've made further modifications. Remove the custom ad blocker rule(s) and the page will load as expected.